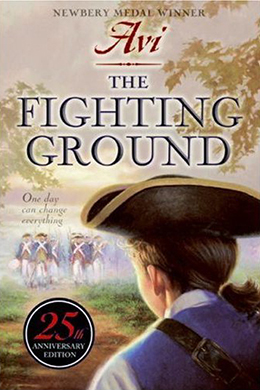 Lip­pin­cott, 1984
illus. by Ellen Thompson
audio book nar­rat­ed by
George Guidall
if you liked this book, try:
April 3, 1778. Amer­i­ca is caught up in the Rev­o­lu­tion­ary War. On this warm spring morn­ing, not far from Tren­ton, New Jer­sey, a 13-year-old boy and his father are qui­et­ly till­ing the sod on their farm. But the boy can think of only one thing: He wants to fight. He knows how to use a gun-why won't his father let him go?
Unex­pect­ed­ly, the qui­et is cut by the sound of a bell-an alarm ring­ing from the near­by tav­ern. Jonathan is sent to find out what the trou­ble is. What he finds in the next twen­ty-four hours, when he does fight and is tak­en pris­on­er by three Hes­s­ian sol­diers, changes his under­stand­ing of war and life for­ev­er. The real war, he dis­cov­ers, is being fought with­in himself.
This swift­ly paced adven­ture sto­ry of a bat­tle-with­in-a-bat­tle is told by Avi in stark detail, with vivid his­tor­i­cal set­tings and breath­tak­ing action.
At the time I was liv­ing in Lam­bertville, New Jer­sey, so it was easy for me to catch a bus and get into NYC for a meet­ing with my edi­tor. We were going to dis­cuss the new nov­el man­u­script I had sent her.
I did indeed meet with her and learn that she was reject­ing my book. Long ago I had learned that you didn't argue about such a thing, you just accept­ed it, and moved on. Indeed, while tak­ing the bus back home my pri­ma­ry thought was, "What am I going to write now?"
Scott O'Dell Award, Best His­tor­i­cal Fic­tion, 1984
ALA Notable, 1984
ALA Best Books for YA, 1984
Bologna, Inter­na­tion­al Book Fair, White Raven, 1984
Notable Chil­dren's Trade Books in Social Stud­ies, 1984
Jef­fer­son Cup Award Hon­or Book, Vir­ginia Library Assoc, 1985
Book of the Month, 1984 PCRRT
ALA Best Books Hi-Lo, 1984
"The years is 1778, and 13-year-old Jonathan longs to go off to fight the British … a vivid telling in a brief and intense­ly per­son­al moment of his­to­ry in which a young boy grows up much too fast." (School Library Jour­nal)
if you liked this book, try: