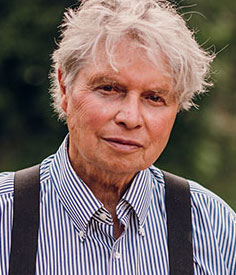 In 1937, in the city of New York. I was raised in Brooklyn.
Where did you get that name?
My twin sis­ter gave it to me when we were both about a year old. And it stuck.
Why don't you tell your real name?
The fact is, Avi is the only name I use.
What were you like as a kid?
Shy, not into sports, but some­one who loved to read and play games of imagination.
Pic­ture books, then chap­ter books, com­ic books, and I lis­tened to lots of kids' radio.
Not very. In ele­men­tary school I did well in sci­ence, but I was a poor writer. When I got to high school I failed all my cours­es. Then my folks put me in a small school which empha­sized read­ing and writ­ing. Even beyond that I need­ed spe­cial tutoring.
Then why did you even want to become a writer?
Since writ­ing was impor­tant to my fam­i­ly, friends, and school, it was impor­tant to me. I want­ed to prove that I could write. But it took years before I had a book published.
When do you become a writer?
I think you become a writer when you stop writ­ing for your­self or your teach­ers and start think­ing about read­ers. I made up my mind to do that when I was a high school senior.
Did you write kids' books right from the start?
I began as a play­wright. Only when I had kids of my own did I start to write for young people.
Does your fam­i­ly help you write?
They help by sup­port­ing my efforts, not by giv­ing me ideas, or sug­gest­ing changes.
Is writ­ing hard for you?
Yes. But then it's hard for every­one to write well. I have to re-write over and
over again so that on aver­age it takes me a year to write a book.
If you do any­thing all the time it's nice to get away from it now and again. My hob­by is photography.
Where do you get your ideas?
Every­body has ideas. The vital ques­tion is what do you do with them? My rock musi­cian sons shape their ideas into music. My sis­ter takes her ideas and fash­ions them into poems. My broth­er uses his ideas to help him under­stand sci­ence. I take my ideas and turn them into sto­ries. Now, what do you think you'll do with your ideas?
What's your favorite book?
Do you have any advice for peo­ple who want to write?
I believe read­ing is the key to writ­ing. The more you read, the bet­ter your writ­ing can be.
Lis­ten and watch the world around you. Try to under­stand why things hap­pen. Don't be sat­is­fied with answers oth­ers give you. Don't assume that because every­one believes a thing it is right or wrong. Rea­son things out for your­self. Work to get answers on your own. Under­stand why you believe things. Final­ly, write what you hon­est­ly feel, then learn from the crit­i­cism that will always come your way.