What Do Fish Have to Do with Anything?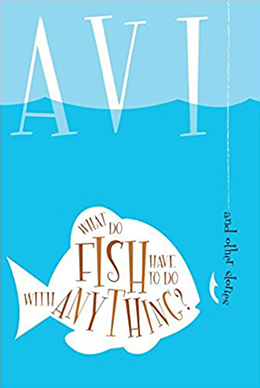 audio book nar­rat­ed by
Jeff Wood­man, John­ny Heller, and Christi­na Moore
if you liked this book, try:
In the over­lap­ping years when child­hood and ado­les­cence blend, noth­ing is cer­tain and every­thing is chang­ing. Now award-win­ning author Avi cre­ates sev­en por­traits of life in the mid­dle-school years.
In "What Do Fish Have to Do with Any­thing," William won­ders why he should­n't ask ques­tions that have no answers. Is it because he might dis­cov­er the truth?
Avi writes: Books come about for curi­ous rea­sons. The pub­lish­er and edi­tor with whom I had been work­ing hap­pi­ly for a num­ber of years sud­den­ly fell into dif­fi­cul­ties. It was no longer pos­si­ble for me to work with them. This cre­at­ed some­thing of a puz­zle for me—with whom should I work? As I was pon­der­ing that ques­tion, I met with an edi­tor from anoth­er pub­lish­er. I had once writ­ten a short sto­ry for an anthol­o­gy she put togeth­er. I spoke of my predica­ment and she asked me if I'd like to pub­lish a col­lec­tion of my short sto­ries with her. That seemed a good idea, the more so because I had a few sto­ries in my files. I set about to write a few more, and the col­lec­tion became What Do Fish Have to Do With Any­thing. Short sto­ries are hard to write, but fas­ci­nat­ing to work upon—so few words—so much to say.
Starred Review, Pub­lish­ers Weekly
Starred Review, School Library Journal
Par­en­t's Choice Sil­ver Hon­or award, 1998
"The ever-ver­sa­tile Avi serves up a col­lec­tion of sev­en sto­ries about kids tee­ter­ing on the brink of ado­les­cence. Hap­pi­ly, angst is less the order of the day than irony which takes the form of some pret­ty nifty plot twists. … Anoth­er sol­id per­for­mance by an impor­tant writer." (Book­list)
if you liked this book, try: