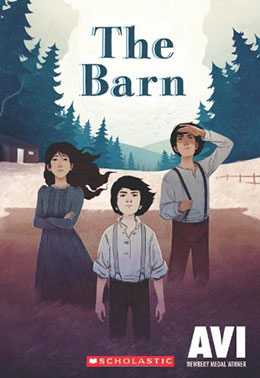 audio book nar­rat­ed by
Jeff Woodman
if you liked this book, try:
The school­mas­ter says nine-year-old Ben­jamin is the finest stu­dent he's ever seen—fit for more than farm­ing; des­tined for great things some­day. But his father's grave ill­ness brings Ben home, from school and com­pels him to strive for some­thing great right now—to do the one thing that will please Father so much he'll want to live. But first Ben must con­vince his old­er sis­ter and broth­er to work with him. And togeth­er, they suc­ceed in ways they nev­er dreamed possible.
Many peo­ple, like myself, find old barns attrac­tive. It's not just the weath­ered archi­tec­ture: I sense the traces of many hands, many beasts, crops, the work­ing lives, all of which grow old with grace and dignity.
One day I was in north­ern Cal­i­for­nia, look­ing at such an old barn. Actu­al­ly, I was doing more than look­ing at it; I was pho­tograph­ing it. Across the way was a house. A woman stepped out­side, and from her porch, called out, "Like that barn?"
"I do."
"There's a sto­ry about it. Want to hear?"
ALA Notable, 1995
IRA Teacher's Choice, 1995
Bank Street Chil­dren's Books of the year, "out­stand­ing," 1994
Starred, focus Review, Book­list, 1994
Amer­i­can Book­seller, Pick of the Lists, 1994
New York Pub­lic Library, Best Books of the Year, 1994
Book­list, Best Books of the year, 1994
Edi­tor's Choice, Book­list, 1994
CCBC Choice, 1994
VOYA, Out­stand­ing Book, 1994
ABC Chil­dren's Book­sellers' Choice, 1995
"Avi is one of our most ver­sa­tile and pro­lif­ic chil­dren's writ­ers. He nev­er does the same thing twice, always exper­i­ment­ing with form and theme and set­ting, from thriller and real­is­tic fic­tion to radio play and graph­ic nov­el. This small, beau­ti­ful his­tor­i­cal nov­el has a time­less sim­plic­i­ty. It's the best thing he's done. Like MacLach­lan's Sarah, Plain and Tall (1985), the sto­ry reach­es from home to the uni­verse." (Book­list, starred review)
if you liked this book, try: