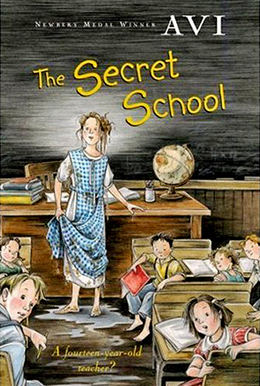 audio book nar­rat­ed by
Johan­na Parker
if you liked this book, try:
More than any­thing, Ida Bid­son wants to become a teacher. To do that, she needs to fin­ish eighth grade so she can go on to high school. But when the one-room school in Ida's remote Col­orado town clos­es unex­pect­ed­ly, that dream seems unat­tain­able. Her only hope is to keep the school open with­out any­one find­ing out. Yet even a secret school needs a teacher. Ida can't be it … or can she?
The way The Secret School begins, with four­teen-year-old Ida dri­ving a Mod­el T Ford, but being so short her broth­er need­ed to be on the floor work­ing the clutch and brakes, is a true tale, told to me by a book­store own­er who had gone to a one-room school house. Though very young she had a spe­cial driver's license which allowed her to drive—but only back and forth to her one-room school house.
I think it was hear­ing that sto­ry that led me to write The Secret School.
IRA Teach­ers' choice
IRA-CBC Children's Choice Award 2002
Chil­dren's Lit­er­a­ture Choice, 2002
Smith­son­ian Mag­a­zine, Notable Book Of the Year, 2001
Parent's Guide Media Awards, 2001
Chil­dren's Choice nom­i­nee, Kansas
Chil­dren's Choice nom­i­nee, South Carolina
Chil­dren's Choice nom­i­nee, California
Chil­dren's Choice nom­i­nee, Iowa
"Humor­ous­ly effec­tive descrip­tions, as in the Bidson's old car 'hic­cup­ping like a damp fire­crack­er,' enliv­en the sense of hard­ships. The impor­tance of edu­ca­tion and dream­ing of one's future are impart­ed in an enter­tain­ing way. This care­ful­ly plot­ted, enjoy­able, old-fash­ioned tale of chil­dren tak­ing con­trol of a bad sit­u­a­tion is a wel­come addi­tion to the lit­er­a­ture of empow­er­ment." (School Library Jour­nal)
if you liked this book, try: