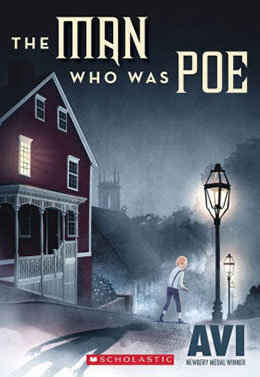 audio book nar­rat­ed by
George Guidall
if you liked this book, try:
The Old City lay dark and cold …
It is night. And Edmund is alone. His moth­er is gone. His aunt, who went in search of her, is dead. His sis­ter has dis­ap­peared. Edmund has no one. Except for a stranger of the night.
A dark, mys­te­ri­ous stranger who flees from his own demons … who fol­lows Edmund with grim deter­mi­na­tion through the cold and shad­ow city, promis­ing to help, but often hin­der­ing. A stranger who needs Edmund for pur­pose of his own.
Some­times book A leads to book B. Such was the case for The Man Who Was Poe.
My last post, about Some­thing Upstairs, men­tions how I moved to Prov­i­dence, Rhode Island, and how, once there, I began to read about local history.
While doing that, I learned that Edgar Allan Poe had impor­tant con­nec­tions to the city: he was try­ing to get mar­ried.
One of the Best Books of Year, Library of Con­gress, 1990
Nom­i­nat­ed, Best Juve­nile Mys­tery of the Year, Mys­tery Writ­ers of Amer­i­ca, 1990
NCTE, Notable Chil­dren's Book, 1990
New York Pub­lic Library, One of the Best Books of the Year, 1989
Focus Review, Book­list, 1990
"The writ­ing is that of a true mas­ter … a sus­pense­ful, thought-pro­vok­ing nov­el that com­bines mys­tery with his­tor­i­cal fic­tion." (Chil­dren's Book Review Service)
"Sus­pense­ful fic­tion that works extreme­ly well." (The Horn Book)
if you liked this book, try: