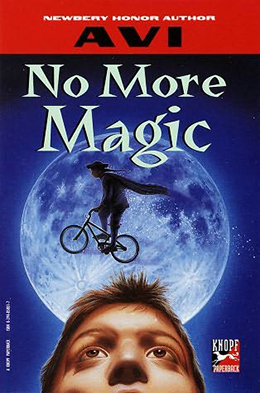 Knopf, 1975
out of print; look for this book at your favorite used book­seller or library
if you liked this book, try:
While search­ing for his bicy­cle that dis­ap­peared on Hal­loween, a young boy and his two friends become involved in a mag­ic adventure.
My first nov­el, No More Mag­ic, had its ori­gins in my son's eighth birth­day par­ty. At the time, I was liv­ing in Lam­bertville, New Jer­sey, a charm­ing old 19th cen­tu­ry town, the birth­place of James Mar­shall, the man who, in 1848, first dis­cov­ered gold on Sutter's Ranch in Cal­i­for­nia. Sit­u­at­ed on the Delaware Riv­er, Lam­bertville was where the iron rims for gun car­riage wheels were man­u­fac­tured for the Union forces dur­ing the Civ­il War. The point is the typog­ra­phy of No More Mag­icis Lam­bertville. Indeed, there is a fair amount of my fam­i­ly life that appears in the book.
Spe­cial Award, Mys­tery Writ­ers of Amer­i­ca, 1975
"… even a witch couldn't antic­i­pate the final twist of this plot." (Kirkus Reviews)
if you liked this book, try: