The True Confessions of Charlotte Doyle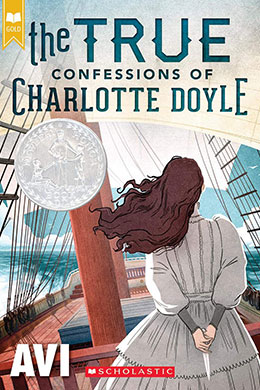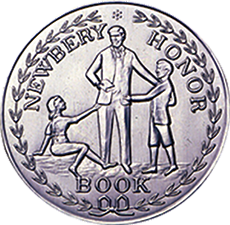 nar­rat­ed by
Alexan­dra O'Karma
if you liked this book, try:
An ocean voy­age of unimag­in­able consequences …
Not every thir­teen-year-old girl is accused of mur­der, brought to tri­al, and found guilty. But I was just such a girl, and my sto­ry is worth relat­ing even if it did hap­pen years ago. Be warned, how­ev­er: If strong ideas and action offend you, read no more. Find anoth­er com­pan­ion to share your idle hours. For my part I intend to tell the truth as I lived it.
I began the last sto­ry about a sto­ry by telling how Book A (Some­thing Upstairs) led to Book B (The Man who was Poe). Here is the sto­ry how the Poe book led to Book C, The True Con­fes­sions of Char­lotte Doyle.
Poe is gen­er­al­ly cred­it­ed with hav­ing invent­ed the detec­tive tale with his short sto­ry, Mur­ders on the Rue Morgue. (1841) That sto­ry, pro­found­ly influ­en­tial, also came to be known as a "Locked Room Mys­tery." Which is to say some­thing hap­pens in a room that is pre­sum­ably inaccessible.
Well, I thought, liv­ing as I was on the edge of the Atlantic Ocean, what could be more of a "locked room" than a sail­ing ship at sea?
New­bery Hon­or Book, 1991
Horn Book-Boston Globe Award, 1991
Asso­ci­a­tion of Library Ser­vice, 100 Books Kids Should Read, 2000
SLJ 100 Most Sig­nif­i­cant Children's Books of the 20th Cen­tu­ry, 2000
Mass­a­chu­setts Children's Choice Award, 1996
Flori­da Young Reader's Award, 1994
Utah, YA Award, 1994
ALA Notable, 1991
ALA Notable Record­ing (Record­ed Books, Inc.) 1992
Best Books for Young Adults 1991, YASD
Book­list Edi­tors' Choice 1990
Fan­fare 1991, Horn Book
School Library Jour­nal Best Books, 1990
New York Pub­lic Library Best Books for Teens, 1990
NCTE Notable Chil­dren's Trade Book in the Lan­guage Arts, 1991
Lopez Memo­r­i­al Foun­da­tion Award, 1990
Child Study Asso­ci­a­tion Best Books of 1990
IRA Children's Choice, 1990
Library of Con­gress 100 Books for Chil­dren, 1991
Eng­lish Jour­nal's Hon­or List, 1991
Book­list, 1990, starred review
Horn Book, 1991, starred review
School Library Jour­nal, 1990, starred review
Kirkus Reviews, 1990, starred review
"On a long, gru­el­ing jour­ney from Eng­land to Rhode Island in 1802, a 12-year-old changes from a prim and prop­er girl to a swash­buck­ling mate of a muti­nous crew and is accused of mur­der by the cap­tain. Awash with ship­board activ­i­ty, intense feel­ings, and a keen sense of time and place, the sto­ry is a throw­back to good old-fash­ioned adven­ture yarns on the high seas .… A breath­tak­ing sea­far­ing adven­ture." (School Library Jour­nal)
if you liked this book, try: