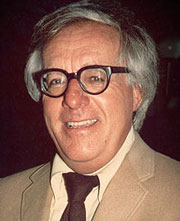 The New York Times (6/7/12) ran a long obit­u­ary about Ray Brad­bury, his life, his work, and his influ­ence as a writer, and as a per­son. Brad­bury was a man who seems to have been an enthu­si­ast for life, and filled his writ­ing with that passion.
Par­tic­u­lar­ly touch­ing were the com­ments that fol­lowed the obit­u­ary. For the most part these remarks were from men who dis­cov­ered Brad­bury when they were quite young, kids real­ly. It was not just that they were entranced with what Brad­bury wrote. He turned them into life-long read­ers. Appar­ent­ly, they were so enthralled by his ideas, his lan­guage, and his writer's craft, that they embraced the uni­verse idea of reading—and nev­er for­got that it was he who gave the gift.
Many years ago I had a brief (and acci­den­tal) encounter with him—a shared taxi ride to the Mia­mi air­port. The strong impres­sion he made, his embrac­ing, open-heart­ed per­son­al­i­ty, was as strik­ing as it was last­ing, so that I could describe it in detail to one of my sons today. Fleet­ing as that meet­ing was, my mem­o­ry seems to be in accord who those knew him far, far bet­ter than I. He seems to have been a won­der­ful­ly giv­ing per­son, as well as a won­der­ful­ly giv­ing writer.
Rare indeed!