This writer's day: Up at six, and by six-thir­ty (with cof­fee near) work­ing on new book, focus­ing on the last third. Chat with my pub­li­cist about evolv­ing web­site. An e‑mail from the edi­tor of forth­com­ing book, Sophia's War, inform­ing me that she is send­ing the first pass gal­ley. For the first time I get to look at the book in print, always some­thing of a shock, always sat­is­fy­ing. More cof­fee. We spend an hour and a half going through the book—she's the leader here—adjusting words, sen­tences for clar­i­ty, delet­ing rep­e­ti­tions, con­fu­sions, what have you. Vital to do. Good edi­tors do this well. Then I go off to the local library to get advice on retrieval of news­pa­per archives, for infor­ma­tion I need for new project.
An hour's break (a 3½-mile walk). Back home (more coffee).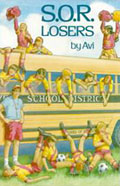 I work on an old text, S.O.R. Losers, which has been refor­mat­ted for inclu­sion in Break­fast Seri­als, the news­pa­per seri­al­iza­tion-pub­lish­ing ven­ture. An e‑mail from a dif­fer­ent edi­tor, with encour­ag­ing words about first 100 pages of that new project. It is ener­giz­ing, so after din­ner, back to that project.
Final­ly, hap­pi­ly, read­ing time, a book about Edgar Allan Poe. Always a fas­ci­nat­ing sub­ject. One of my books, The Man Who Was Poe, is about him. A long, but pro­duc­tive day.