Daya­nara, of Quin­cy, Illi­nois, wrote: "… my dream is to become an author some­day. My dad would nev­er approve of it though. He wants me to become some­one who can change the world, but he doesn't under­stand writ­ing can change the world."
Go Daya­nara!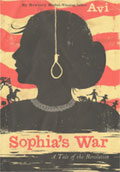 But … can writ­ing change the world? Hav­ing just been emerged in the world of the Amer­i­can Rev­o­lu­tion so as to write Sophia's War, the evi­dence is clear that such writ­ing as Tom Paine's Com­mon Sense, and "We hold these truths to be self-evi­dent … " changed the world. But since Daya­nara wrote to me, per­haps, it's fair to ask if fic­tion can change the world? More specif­i­cal­ly, can writ­ing for young peo­ple change the world?
I am struck by how many adults vivid­ly recall books they read as young peo­ple and with an enthu­si­as­tic mem­o­ry for detail that is strik­ing con­sid­er­ing the years which have passed. I've noticed, too, how many peo­ple recall, in par­tic­u­lar, a teacher who read a lot to a class. I've often been told by old­er women that, when younger, they read The True Con­fes­sions of Char­lotte Doyle many times. Only rarely how­ev­er, did they tell me what they did because of that reading.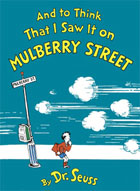 Speak­ing for myself, I do believe And To Think that I saw it on Mul­ber­ry Street, opened my imag­i­na­tion. The Wind in the Wil­lows gave me a new aware­ness of the nat­ur­al world. Trea­sure Island, informed me what a boy (Jim Hawkins) could do.
Beyond all else, how­ev­er, I believe read­ing taught me how to think. And what I read was, of course, writing.