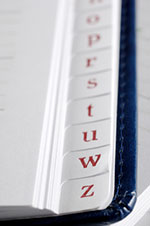 I was recent­ly doing a Skype vis­it with a library group when one of the young peo­ple asked, "How do you go about choos­ing names for your characters?"
There are all kinds of con­sid­er­a­tions. First, boy/girl. Then, the time peri­od in which the sto­ry takes place because names become more or less pop­u­lar. I was writ­ing a nov­el set in the 1950's. What was the most pop­u­lar name for a boy then? JIM. That's the name I gave my main char­ac­ter. Sophia was a pop­u­lar name in the 18th Cen­tu­ry. King George III (or last king) had a daugh­ter named Sophia. And so, Sophia's War.
If one char­ac­ter is named, say, Emi­ly, I won't use Eveli­na for anoth­er char­ac­ter. If some­one is called Pip, I won't use Rip.
In the Pop­py books all the for­est mice have names of flow­ers. Hence, Pop­py, and her father, Lung­wort, a mouse giv­en to pompous speech­es. My edi­tor, Elise Howard, sug­gest­ed the city mice in the book, Rag­weed, have some­thing city in their names. I decid­ed on car parts, hence, Clutch. Some­time I name char­ac­ters by way of sug­gest­ing what the per­son is like, both their nature and the way they act. Bear in Crispin is big, and bear-like.
In my own ref­er­ence library I have books of names, mod­ern, his­tor­i­cal, and by nation­al­i­ty. And of course noth­ing is bet­ter for name choos­ing than a phone book.
What is your favorite fic­tion­al char­ac­ter name?