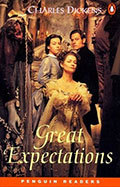 On a recent trip I took along two books. One was Charles Dick­ens' Great Expec­ta­tions, the sec­ond a name­less con­tem­po­rary mys­tery by anoth­er British writer. Air­plane read­ing. I had read Great Expec­ta­tions a few times. It is one of my very favorite nov­els, and is, in my opin­ion, one of the great­est nov­els ever writ­ten. As I read it this time I mar­veled again and again at its bril­liance. Many a time, while read­ing, I said to myself, "How can you call your­self a writer when you read such won­der­ful stuff?"
In any case I fin­ished the book, deeply impressed, and in con­sid­er­able awe.
My flight home was very much delayed so I was glad I had that sec­ond book. I did read it and found it was very poor stuff indeed. Again and again I said to myself, "I can do bet­ter than this!" Or, "I write bet­ter than this!"
It may seem odd to say, but some­times, when read­ing great writ­ing, such as Dick­ens at his best, it's impos­si­ble to learn any­thing. It is sim­ply too good. But read some­thing very much down the scale and you can learn a lot, because one can learn more from the anato­my of medi­oc­rity than from the flaw­less body of genius.