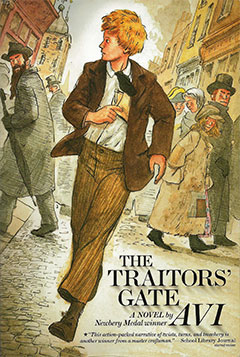 If you have read these notes of mine with any reg­u­lar­i­ty you will have sure­ly noticed that the nine­teenth cen­tu­ry British writer, Charles Dick­ens, has had con­sid­er­able influ­ence on my read­ing life and writ­ing. I was intro­duced to him by my moth­er, who had a mul­ti-vol­ume set of his works on her shelves, and adored his writ­ing, as count­less oth­ers have. I knew an elder­ly Eng­lish pro­fes­sor who read Dick­ens every night to his wife, night after night, for many, many years.
I don't know when I start­ed to read him, but in one sense of anoth­er I have nev­er stopped. At a min­i­mum, A Christ­mas Car­ol is required Decem­ber read­ing, and it nev­er fails to move me.
Trai­tors' Gate might be called my homage to Dick­ens. Set in Lon­don, Eng­land, in 1849, it is full of ref­er­ences to the great writer, some bla­tant, some sly. On the bla­tant side, my pro­tag­o­nist, John Huf­fam, takes his name from Dick­ens' full name, Charles John Huf­fam Dick­ens. More­over, the plot derives from a cru­cial inci­dent in young Dick­ens' life, when his father was impris­oned for debt. Indeed, my nov­el begins:
"By the end of the week" said my father, as if speak­ing of a change in weath­er, "there's a pos­si­bil­i­ty I shall be sent to prison."
Because the Vic­to­ri­ans of the day were fas­ci­nat­ed by their own soci­ety, they wrote volu­mi­nous descrip­tions of their world, try­ing but gen­er­al­ly not suc­ceed­ing in under­stand­ing it. Thus to do research about Vic­to­ri­an London—from the slums (rook­eries), to church­es, to wealthy homes, to jails—is to have a ver­i­ta­ble library in easy reach. What food do you get in prison? How much? I found that. And maps! Wher­ev­er my char­ac­ters go, they tread real ground.
The nov­el is in no way about Dick­ens, but sure­ly it is my attempt to re-cre­ate his world and bravu­ra writ­ing. In truth, the most fun of all was to write char­ac­ters with the broad satir­i­cal range that Dick­ens' style allowed. I tru­ly laughed as I wrote about Mr. Snugs­be, and his the­o­ry of coats which he used to explain the world. Writ­ing a book that makes one smile is very much a task of plea­sure. One can only hope read­ers will enjoy read­ing the book as much I enjoyed writ­ing it "Imi­ta­tion," said Oscar Wilde, "is the sin­cer­est form of flattery."
Trai­tors' Gate is my attempt to flat­ter Dickens.
And, if you do noth­ing else, do check out Mr. Snugs­be's the­o­ry of coats. It just might fit you.