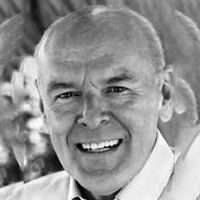 Over the years, I came to think of Richard Peck as a friend. We were not par­tic­u­lar­ly close, but we'd meet at con­fer­ences, and speak­ing engage­ments. I got to know him very much bet­ter when he was part of the ensem­ble for Authors Read­ers The­atre, our reader's the­atre group that toured the country.
He was always the gen­tle­men, urbane, wit­ty, hard­work­ing, will­ing to share his dis­tinct point of view, free with his opin­ions. Always impec­ca­bly dressed too, just this side of van­i­ty, defused by his own self-depre­cia­tive wit. We nev­er talked pol­i­tics much, but when we did I doubt there was much upon which we agreed. That said—during these days of ran­cor and hostility—it's worth say­ing that those dif­fer­ences nev­er mat­tered in our friend­ship or when work­ing togeth­er. He was fun to be with, full of ener­gy, and sly humor.
I won't pre­tend that I knew him very well, but he was one of those peo­ple who, when gone, is sore­ly missed.