"Books aren't eggs, you know. Sim­ply because a book has aged a bit doesn't mean it's gone bad.… What is wrong with old? Age isn't a dis­ease. We all grow old, even books. But are you, is any­one, worth less, or less impor­tant, because they've been around for longer?"
By far most of the books I pur­chase are used books. It would be easy to say I do so because they are often cheap­er than new ones. The usu­al truth is that I get them because I can't find them any­where else oth­er than a used book­store. Most impor­tant of all, I take great plea­sure in find­ing them.
I find it hard to avoid such places. Many a time, when trav­el­ling to a new city, I scold myself for going to such stores rather than view­ing the local his­tor­i­cal sites. I do it anyway.
For me, such places are sites of serendip­i­ty. [Serendip­i­ty: the occur­rence and devel­op­ment of events by chance in a hap­py or ben­e­fi­cial way.]
It's hard to know how long I've been going into used book­stores. When I was a boy there was a used book­store in my neigh­bor­hood. I could walk there, and often did. The book deal­er would mere­ly nod to me as I came in. Then I would go to the far, far back of the store where—under a dim and dan­gling light bulb–he kept his children's books. For twen­ty-five cents or so I could—and did—buy books.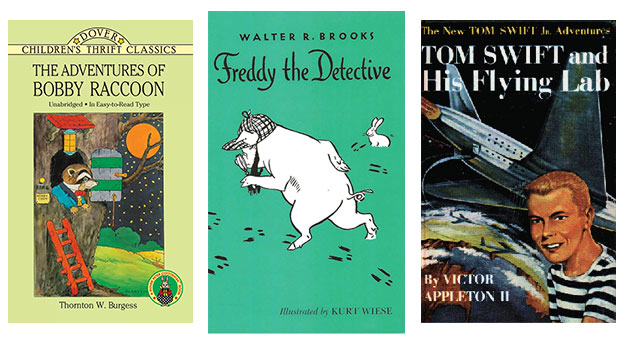 The ear­li­est such books I purchased—I recall—were the Thorn­ton W. Burgess ani­mal tales. I amassed a large col­lec­tion, before going up (in a lit­er­ary sense) to the Fred­dy the Pig books.
Some of my ear­ly expe­ri­ences in book­stores are recount­ed in my book, Catch You Lat­er, Trai­tor.
These pan­dem­ic days I don't—sadly—need to go into a store. There are any num­ber of online sites (ABE books, Bib­lio, Book­find­er, and more). In doing my research, I come across an intrigu­ing title, search it out online and, in a mat­ter of days, I have it in my hands. Thus, on my desk sits Spalding's Offi­cial Bas­ket Ball Guide for Women: 1919–20, Tintin in the Land of the Sovi­ets, the nov­el, Eliz­a­beth is Miss­ing.
Some­times, in these books I find notes, let­ters, pressed flow­ers (once, lucky me, a four-leaf clover) which add to their charms.
And there are inscrip­tions: "For Lucy: That was the best Mer­ry Christ­mas, 1967." "It was as a won­der­ful week­end." "G—Here's that book I told you about. You'll see what I meant."
Each inscrip­tion has its own hid­den story.
In my cur­rent con­fes­sion­al mode, I admit these books have a sin­gu­lar and com­fort­ing (for me) smell. It's some­what musty, a mix of old paper and ink. Maybe I smell that way.
And yes, now and again, I come upon one of my own books with an inscrip­tion. "Susan. You're going to love this one!"
Since it's in the used book­store maybe Susan did not love it. But some­one else, I hope, will; Dis­cov­ered, as in a "hap­py way."