This is one of my most pop­u­lar books, so I offer you some inter­est­ing tid­bits about The True Con­fes­sions of Char­lotte Doyle: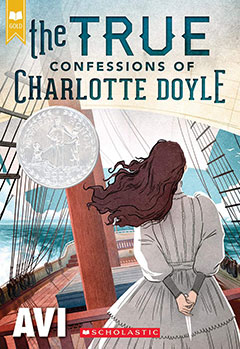 Behind the story
I began the last sto­ry about a sto­ry by telling how Book A (Some­thing Upstairs) led to Book B (The Man who was Poe). Here is the sto­ry how the Poe book led to Book C, The True Con­fes­sions of Char­lotte Doyle.
Poe is gen­er­al­ly cred­it­ed with hav­ing invent­ed the detec­tive tale with his short sto­ry, Mur­ders on the Rue Morgue. (1841) That sto­ry, pro­found­ly influ­en­tial, also came to be known as a "Locked Room Mys­tery." Which is to say some­thing hap­pens in a room that is pre­sum­ably inaccessible.
Well, I thought, liv­ing as I was on the edge of the Atlantic Ocean, what could be more of a "locked room" than a sail­ing ship at sea? read more
Read­ers' The­ater Script
Your class­room, play group, book club, or library group can enjoy per­form­ing this script for 13 voices.
Dis­cus­sion Questions
Scholas­tic offers 10 dis­cus­sion ques­tions to get you started.
Book Cov­ers through the Years
Why do you think the dif­fer­ent cov­ers have been used for the book? What would you pre­dict the sto­ry will be about when you "judge the book by its cov­er"? Which cov­er is your favorite? (A few of these are trans­lat­ed into lan­guages oth­er than English.)
Movie Adap­ta­tion
I'm often asked if there will be a movie made of Char­lotte Doyle.
Back in 2011, Dan­ny DeVi­to was work­ing on it. Then one of the pri­ma­ry cast mem­bers, Mor­gan Free­man, was in an acci­dent and the movie was put on hold. But they made a poster for the movie! (Mor­gan Free­man recov­ered and is back to mak­ing movies.)
Any new news about a movie? Nev­er say never.