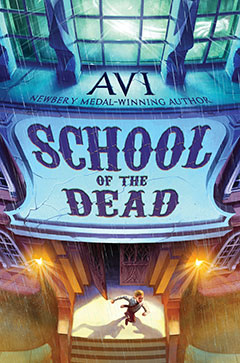 In School of the Dead, for most of Tony Gilbert's life, he has thought of his uncle as "Weird Uncle Char­lie." That is, until Uncle Char­lie moves in with Tony and his fam­i­ly. Uncle Char­lie is still odd, of course—talking about spir­its and oth­er super­nat­ur­al stuff—but he and Tony become fast friends, and Tony ends up hav­ing a lot of fun with Uncle Char­lie. When Uncle Char­lie dies sud­den­ly, Tony is dev­as­tat­ed. Then he starts see­ing Uncle Char­lie every­where! It does­n't help that Tony switched schools—it was Uncle Char­lie's dying wish that Tony attend the Pen­da School, where Uncle Char­lie him­self went as a kid. The Pen­da School is eerie enough with­out his uncle's ghost mak­ing it worse. On top of that, rumors have been cir­cu­lat­ing about a stu­dent who went miss­ing short­ly before Tony arrived. Could that some­how be relat­ed to Uncle Char­lie's ghost?
Behind the story
There is a sto­ry about the great Eng­lish writer Charles Dick­ens that I've always cher­ished. At the time, he was edit­ing his lit­er­ary mag­a­zine, House­hold Words, which had as a sta­ple a seri­al­ized nov­el. It appears that the cur­rent nov­el was not work­ing, and the mag­a­zine was los­ing read­er­ship. In haste, Dick­ens stepped in, and wrote Great Expec­ta­tions, one of his best books. (It's also a favorite of mine—so I came to know how it was writ­ten.) That Dick­ens wrote this fine nov­el for busi­ness reasons—i.e., money—while thor­ough­ly unro­man­tic, says some­thing about the writ­ing busi­ness. One is remind­ed of that remark by Samuel John­son, that, "No man but a block­head ever wrote except for mon­ey." read more
Resources
An inter­view with Karen Cush­man, "On Fan­ta­sy: Avi."
"Writ­ing Advice from Avi," George M. Eber­hart, Amer­i­can Libraries, 25 June 2016
Oth­er ghost sto­ries I've writ­ten: Seer of Shad­ows, Some­thing Upstairs, Dev­il's Race, and Mur­der at Mid­night.
A smat­ter­ing of ghost sto­ries writ­ten by oth­ers: The Haunt­ing of Hen­ry Davis by Kathryn Siebel, The House with a Clock in Its Walls by John Bel­lairs, The Night Gar­den­er by Jonathan Aux­i­er, A Prop­er­ly Unhaunt­ed Place by William Alexan­der, Trace by Pat Cum­mings, Tun­nel of Bones by Vic­to­ria Schwab. If you enjoy this genre, make a list of your favorite titles and share them online.
Ques­tions to dis­cuss in your class­room or book group:
What are some of the best open­ing lines in your favorite books? Ask this ques­tion a cou­ple of days before you share your answers so read­ers have time to look up the open­ing lines in a num­ber of books on their shelves.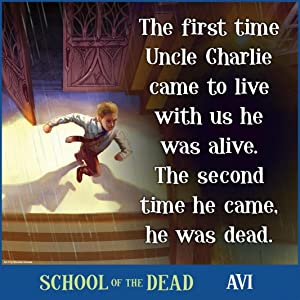 In the fol­low­ing quote from the book, mem­o­ries are described as real. Do you think they are?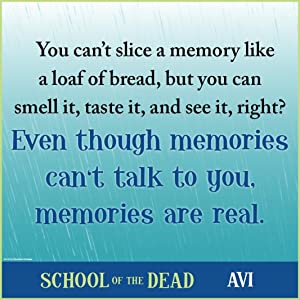 Tony has trou­ble fit­ting in at his new school. Have you been the "new kid" at a school? What do you wish had hap­pened to help you be a part of the new school com­mu­ni­ty? What would you do for a new kid at your school?
Do you believe in ghosts? Do ghosts need you to believe in them?