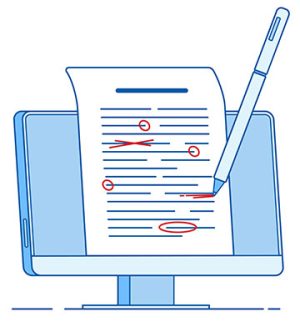 A good friend once asked me to read a man­u­script. "It's only sev­en­ty-eight pages," he said.
The friend was a good one, so I said yes.
The man­u­script came and indeed it was sev­en­ty-eight pages. But the mar­gins were one-half an inch wide, top, bot­tom, and sides. The font was size 10. The pages were not numbered.
After my first gasp as to what I was see­ing I knew I would nev­er read the text. It was blush­ing­ly unread­able. What I sent back were sug­ges­tions on how to make a man­u­script readable.
If you send some­one a text, you want to make it easy to read. So, to begin, dou­ble spaced and bold, please. Num­ber the pages.
There are many fonts avail­able on a com­put­er. I recall a live­ly con­ver­sa­tion with Kevin Henkes about how we went about match­ing the "right" font with a par­tic­u­lar text. Fonts are not only fun but a real art form. My own favorite is the 18th cen­tu­ry Caslon. (Hey, I do write his­tor­i­cal fic­tion). That said I sub­mit my texts using Times New Roman, at 12 points. It's fair­ly stan­dard and I think all com­put­ers can repli­cate it.
My com­put­er allows me to design the text: Reg­u­lar. Expand­ed. Com­pact­ed. I always use expand­ed. Again, eas­i­er to read.
As for the lay­out of a page, there are infi­nite pos­si­bil­i­ties. But I sug­gest you use the default lay­out your com­put­er offers.
In all this, I am urg­ing that there be noth­ing about your man­u­script that inhibits the read­er from read­ing it. That is, after all, the point.
But since I am a bad speller, and my knowl­edge of gram­mar would put a sev­enth-grad­er to shame, I run my texts (often) through spell and gram­mar check­ers. When I got my first com­put­er and learned how to use a spell-check­er I was thrilled. I have long believed the inventor(s) should have won the Noble Prize for Literature.
I remem­ber Richard Peck—a for­mer teacher—telling me he nev­er want­ed a spelling or gram­mar mis­take in his books, lest a young writer learn to write the wrong way. Ah, Richard, I miss you.
So, I have three pro­grams for check­ing. My PC, my Lap­top, and Gram­marly. They don't agree one with the oth­er or even them­selves over peri­ods of time. Being with­out brains they can be wrong, or out of touch with my writ­ing. It's always my judg­ment, but I love, love the advice.
There are also pro­grams for check­ing word rep­e­ti­tions. Do you real­ly want your pro­tag­o­nist to say, "I was daz­zled!" a hun­dred times?
Too many excla­ma­tion points? Use your word find­er!!! Elmore Leonard said you should nev­er use them. Hem­ing­way (I think it was him) said "Using an excla­ma­tion point is like laugh­ing at your own joke."
Your word find­er will find them for you. And the "delete" but­ton should be your most well-used key.
Anoth­er agent once told me she received man­u­script sub­mis­sions tied up in rib­bons and bows, along with brown­ies and cookies.
I send in my man­u­scripts via e‑mail attachments.
Once I asked an agent how long it took for her to tell if the sub­mit­ting author wrote well.
Her answer: "The first line of the sub­mis­sion letter."
Ever since my sub­mis­sion let­ters read:
Dear……….
Here is the book about which we talked.
Sin­cere­ly,
Avi