Dear Friends,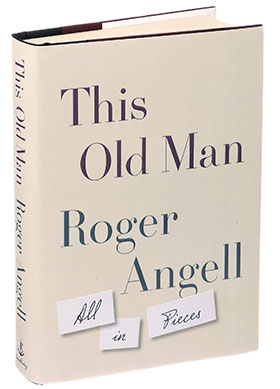 I have some eighty or so pub­li­ca­tions to my cred­it, but then I read some­thing like the essay, This Old Man, by Roger Angell, and I think, I wish I could write as well as that. But as I put that mar­velous essay aside and turn back to what I'm cur­rent­ly writ­ing, I do write bet­ter, because there is no bet­ter writ­ing teacher than good writing.
In anoth­er essay, Angell wrote, about what makes for good fic­tion (Angell was a long-time fic­tion edi­tor at The New York­er) he seems to sug­gest good fic­tion comes down to a cou­ple of things: a writer must notice, and that notic­ing must be trans­formed into words that flow effort­less­ly yet uniquely.
We live—I think—in a world sat­u­rat­ed by lies, exag­ger­a­tion, and self-pro­mo­tion. Social media is an unabridged ency­clo­pe­dia of mis­in­for­ma­tion, and in the world of pol­i­tics, prag­ma­tism is a dirty word. Ide­ol­o­gy is god and is always a false god. To see what is true, to use a Hem­ing­way word, has become hard­er and hard­er. It's hard to write well: it's hard­er to see true.
I have no doubt there are good writ­ing teach­ers, and I applaud them, but I have nev­er been able to teach it because, or so I tell myself, I'm still learning.
When I talk to young peo­ple about writ­ing, and they ask for a tip that will help them become bet­ter writ­ers, I always say the same thing: "Read, read, read, and read some more. Then read, read, read, and read some more. Next, read, read, read, and read some more. And when you get that done, Read, read, read, and read some more. When you do all that, you'll be a bet­ter writer."
That brings me to my mantra: Writ­ers don't write writ­ing. They write reading.
So, to all my fel­low writ­ers I wish you all a good (read­ing) sum­mer. Dur­ing the sum­mer, you'll enjoy a series of writ­ing tips on this blog, con­tributed by writ­ers whose books are outstanding.
Sin­cere­ly,
Avi