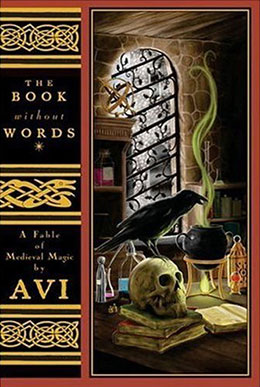 Dis­ney Hype­r­i­on, 2005
audio book nar­rat­ed by
John Curless
if you liked this book, try:
The Book With­out Words is a vol­ume of blank parch­ment pages. Or so it might seem. But for a green-eyed read­er filled with great desire, it may reveal the dark mag­ic of Northum­bria, includ­ing the for­got­ten arts of mak­ing gold and achiev­ing immor­tal­i­ty. For gen­er­a­tions its mag­ic has been pro­tect­ed from those who would exploit it. But on a ter­ri­ble day of death and destruc­tion, The Book With­out Words falls into the hands of a des­per­ate boy.

Many years lat­er, that boy, Thorston, is an old man on the brink of real­iz­ing his dan­ger­ous dream—when he falls down, dead. Now his ser­vant, Sybil, and his mag­i­cal talk­ing raven, Odo, must face their fate. With their mas­ter gone, will they be evict­ed into the cold, decay­ing streets of Ful­worth to fend for them­selves? Or can they some­how unlock the secrets of The Book With­out Words and reap the pre­sumed ben­e­fits of lim­it­less gold and eter­nal life? But Sybil and Odo soon learn that noth­ing is as it appears to be: secrets are not secrets, gold is not gold. Most impor­tant of all, even their master's death and their own lives are not cer­tain.

Set in ear­ly medieval Eng­land and rich with mys­tery and atmos­phere, this is a thought-pro­vok­ing fable about life and death, greed and betray­al, mag­ic and secrets.
When the phone call came telling me that I had won the New­bery award for Crispin: The Cross of Lead, tru­ly, my very first thought was, The next book had bet­ter be good.
How to explain? It's my expe­ri­ence that writ­ers, despite an out­ward appear­ance of cheer­ful belief in their own tal­ent, are quite often, in fact, inse­cure. It's not hard to explain why: you sit alone and work for long peri­ods of time on a project. You are con­stant­ly think­ing, is this right? Is this any good? Will any­one like it?
Children's Book-of-the-Month selection
Review, Pub­lish­ers Week­ly, 2005
Book­sense Chil­dren's Picks for Fall 2005
New York Pub­lic Library Books for the Teen Age, 2005
Bank Street Best Chil­dren's Books of the Year List, 2006
" … will sure­ly keep read­ers turn­ing pages. Odo's clev­er­ness and cyn­i­cism make him a lik­able char­ac­ter, while Sybil's innate good­ness will endear her to read­ers. Clear­ly this is a sto­ry with a mes­sage, a true fable. Thought­ful read­ers will devour its absorb­ing plot and humor­ous ele­ments, and learn a use­ful truth along the way." (School Library Jour­nal)
if you liked this book, try: