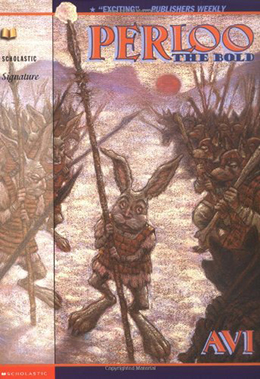 Scholas­tic, 1998
out of print; look for this book at your favorite used book­seller or library
if you liked this book, try:
Per­loo, a peace­ful schol­ar who has been cho­sen to suc­ceed Jolaine as leader of the fur­ry under­ground peo­ple called the Mont­mers, finds him­self in dan­ger when Jolaine dies and her evil son seizes con­trol of the burrow.
Now here is a top­ic for some­one (not me) to write about: Books writ­ten for a spe­cif­ic child. There are quite a few. You can start with Alice in Won­der­land.
My son, Robert, was an avid ski­er and a very fine one. He was also a read­er. There was a time when he was read­ing the Red­wall series by British writer, Bri­an Jacques, and was deeply involved in the books. Good books they are, and Mr. Jacques, whom I met a cou­ple of times, was quite charming.
Starred review, Pub­lish­ers Weekly
One of top 10 Fan­ta­sy Nov­els for Youth, 1998–99, Book­list
Chil­dren's choice nom­i­nee, Oklahoma
Chil­dren's Choice nom­i­nee, New Mexico
Chil­dren's Choice nom­i­nee, Texas
Children's Choice nom­i­nee, Florida
Children's Choice nom­i­nee, Connecticut
"… excit­ing, sus­pense­ful and wit­ty." (Pub­lish­ers Week­ly)
if you liked this book, try: