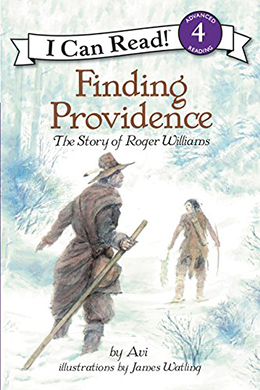 Harper­Collins, 1997
illus. by James Watling
if you liked this book, try:
The Story of Roger Williams
The year is 1635, and Mary Williams and her fam­i­ly live in the Mass­a­chu­setts Bay Colony. Her father, Roger, is on tri­al for preach­ing new ideas about free­dom. When found guilty, he flees into the cold, telling Mary that she must trust in God's prov­i­dence to see him to safe­ty. Roger's only hope of sur­vival lies with the Nar­ra­gansett Indi­ans. Will Mary ever see her father again?
You can't live in Prov­i­dence, Rhode Island, as I have, with­out learn­ing about Roger Williams, who helped cre­ate the tiny state we know today. In his day he was a con­tro­ver­sial fig­ure, and he remains so today. Part­ly it was his reli­gious beliefs. But it was also his atti­tude toward the Native Amer­i­can. He believed Eng­lish set­tlers had no right to take land from those who already lived there. This small book is a fic­tion­al­ized account of that aspect of his life.
Pick of the Lists, IRA, 1997
"… the sto­ry of the found­ing of Prov­i­dence, Rhode Island, told from the per­spec­tive of the daugh­ter of Roger Williams … The sto­ry demon­strates the sim­ple but pow­er­ful con­cept that has come to be enshrined as the con­sti­tu­tion­al sep­a­ra­tion of church and state." (Chil­dren's Lit­er­a­ture)
if you liked this book, try: