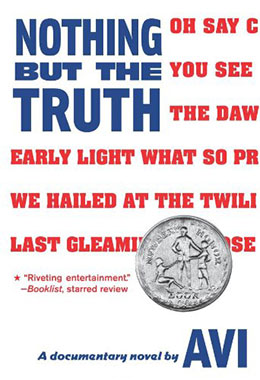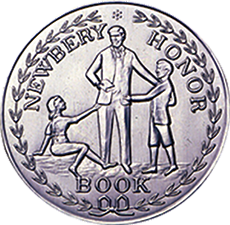 audio book nar­rat­ed by
The Full Cast Family
if you liked this book, try:
Patri­o­tism or prac­ti­cal joke?
Ninth-grade stu­dent Philip Mal­loy was sus­pend­ed from school for singing along to The Star-Span­gled Ban­ner in his home­room, caus­ing what his teacher, Mar­garet Nar­win, called "a dis­tur­bance." But was he stand­ing up for his patri­ot­ic ideals, only to be squelched by the school sys­tem? Was Ms. Nar­win sim­ply try­ing to be a good teacher? Or could it all be just a mis­un­der­stand­ing gone bad—very bad? What is the truth here? Can it ever be known?
Hero­ism, hoax, or mis­take, what hap­pened at Har­ri­son High changes every­thing for every­one in ways no one—least of all Philip—could have ever predicted.
Noth­ing but the Truth came to be writ­ten because of a series of seem­ing­ly unre­lat­ed experiences.
To begin: In my col­lege play­writ­ing days I became very inter­est­ed in a Depres­sion era play form called "Liv­ing News­pa­pers." These were the­atre pieces which, for a plot, tried to teach the audi­ence about some­thing, most­ly the cur­rent events of the day. The pro­duc­tions used all kinds of teaching/theatre tech­niques, mem­os, speech­es, charts on screens, try­ing to inform the audi­ence as to what was hap­pen­ing. They were, if you will, doc­u­men­tary plays.
I even tried to write a liv­ing news­pa­per. About education.
New­bery Hon­or Book, 1992
Horn Book-Boston Globe Award Hon­or Book, 1992
Gar­den State Teen Award, 1995
YALSA One of the Best YAs from the last twen­ty-five years, 1994
Ari­zona Young Read­ers Award, 1994
New York State Read­ers Award, 1994
ALA Notable, 1992
Best Books for Young Adults 1992, YASD
Edi­tors' Choice 1991, Book­list
One of the Best Books of 1991, Horn Book
One of the Best Books of 1991, School Library Journal
Best Books of 1991, Pub­lish­ers Weekly
Amer­i­can Book­sellers Children's Choice List, 1992
Best Books for Teens 1992, NY Pub­lic Library
NCTE Notable, Chil­dren's Trade Book in the Lan­guage Arts, 1992 Notable, Nation­al Coun­cil of Social Studies/Children's Book Coun­cil, 1991
Bul­letin of the Cen­ter for Children's Books, Blue Rib­bon Book
One of the Best Books of the Year, Banks St. Teach­ers Col­lege, 1992
Library Of Con­gress: Best Books for Chil­dren, 1992.
Starred Review, Book­list, 1991
Starred Review, Horn Book, 1992
Starred Review, School Library Jour­nal, 1991
Starred Review, Bul­letin for the Cen­ter of Children's Books, 1991
Point­ed Review, Kirkus Reviews, 1991
Horn Book, Fan­fare Award, 1992
"… Avi shows how eas­i­ly a sim­ple act of defi­ance by a teenag­er can soon become the cen­ter of the polit­i­cal cor­rect­ness debate wag­ing in the Unit­ed States. This is an inter­est­ing, and yet dis­turb­ing, sto­ry that cap­tures the unfor­tu­nate real­i­ty of today's school sys­tem and the media fren­zy around it. Although writ­ten for young read­ers, it is also a good read for par­ents and edu­ca­tors. As is typ­i­cal of Avi, the writ­ing is riv­et­ing and reveal­ing." (Chil­dren's Lit­er­a­ture)
if you liked this book, try: