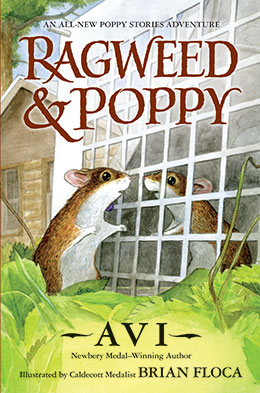 audio book nar­rat­ed by
John McDonough
if you liked this book, try:
How did Rag­weed and Pop­py meet and become friends? This book tells their hilar­i­ous sto­ry! Adven­tur­ous gold­en mouse Rag­weed is on a freight train leav­ing the city of Amperville. On his jour­ney he meets Lotar, a young, annoy­ing, and lost rac­coon who's des­per­ate to reunite with his moth­er. Though Rag­weed doesn't real­ly want to help the rac­coon, by doing so he winds up in Dim­wood Forest.
Rag­weed is now ready to strike off on his own, but it's not long before he hears a cry for help. Fol­low­ing the sound of the voice, he finds a cage with a deer mouse trapped inside. When he asks the mouse's name, she replies, "Pop­py."
The way Rag­weed comes to Pop­py's aid, and how Pop­py comes to his, is how their rous­ing and fate­ful friend­ship begins. As for that annoy­ing rac­coon, he keeps get­ting in the way.
The ori­gins of Pop­py, and the Pop­py series can be found on this blog in a post dat­ed June 13, 2017.
If you read that post and the oth­er posts about the sequen­tial books, you'll note that I nev­er intend­ed to write a series, that even as they appeared they were not writ­ten in sequence. More­over, that first pop­py book appeared in 1985. In oth­er words, the series began twen­ty-five years ago. That's a stretch.
Kirkus Reviews 10 Top Mid­dle-Grade Sum­mer Reads
"Avi han­dles the large cast of famil­iar and new char­ac­ters with ease, while pac­ing the nar­ra­tive for max­i­mum enjoy­ment. Flo­ca's pen­cil draw­ings illus­trate the sto­ry. … A must-read choice for Pop­py fans." (Book­list)
"A char­ac­ter­is­ti­cal­ly droll lagniappe for a durable and pop­u­lar series." (Kirkus Reviews)
if you liked this book, try: