Who Stole the Wizard of Oz?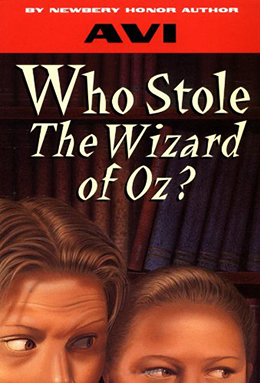 if you liked this book, try:
The mys­tery revolves around a rare edi­tion of The Wiz­ard of Oz miss­ing from the local library. When Becky is accused of steal­ing it, she and her twin broth­er Toby set out to catch the real thief and prove her inno­cence. Clues clev­er­ly hid­den in four oth­er books lead to a hid­den treasure—and a grip­ping adventure.
Lots of peo­ple are fas­ci­nat­ed by maps. I knew a seri­ous book col­lec­tor who built a large library of books which specif­i­cal­ly had maps in them. For exam­ple, Trea­sure Island, famous­ly, has a map in it. Indeed, it's said that Steven­son drew the map for his step-son first, and then wrote the book.
I too like maps and so, back in the day when I work­ing as a librar­i­an, I was intrigued when a new atlas came into the ref­er­ence col­lec­tion. More­over to my great delight it was an atlas of fan­ta­sy lands. A won­der­ful­ly clever idea, it was such fun to see maps of, not just Trea­sure Island, but the lands of Oz, the Thou­sand-acre Woods, and so on. Much fun.
"Avi com­bines sim­plic­i­ty of style with wit as he builds a believ­able, grip­ping plot that is high­ly acces­si­ble to young read­ers. (Book­list)
if you liked this book, try: