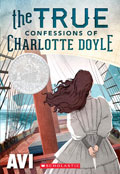 Isabelle, from Harp­er Woods, MI, writes, "I was won­der­ing if you're going to make a sequel to The True Con­fes­sions of Char­lotte Doyle?"
In the years since the book was pub­lished I have been asked that ques­tion many times, even before sequels became popular.
It seems to me that Charlotte's sto­ry, among a num­ber of things, is about her gain­ing the pow­er and courage to make choic­es for herself—to decide what she wish­es to do with her life. Of course, in the sto­ry, her biggest deci­sion, her biggest choice, is what to do after the events on the Sea­hawk, after she returns home to Prov­i­dence, RI. Since I feel Charlotte's achieve­ment is the abil­i­ty to make choic­es for her­self, to tell the read­er what that choice might be would dimin­ish the book's pow­er. That open­ness is what, I think the book is about. I am a strong believ­er that a book, once writ­ten, belongs to the read­er, not to the writer. Since I have no idea what Char­lotte might do, I want every read­er to make that choice on their own, even as I want every read­er to have that pow­er in their own lives. We all have the pow­er to write our own sequels. The sequel I won't write is one for The True Con­fes­sions of Char­lotte Doyle. Isabelle, you are going to have to do that on your own.