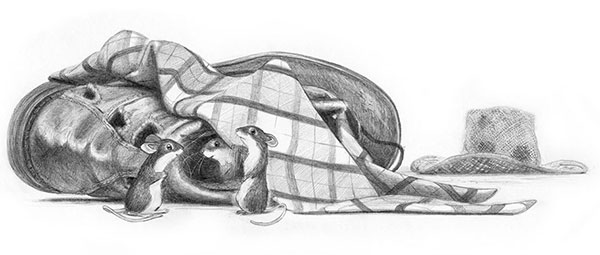 It was 1993, and I was liv­ing for a few months in Cor­val­lis, Ore­gon. Wan­der­ing into a book­store, I found a remain­dered book about owls. Find­ing it fas­ci­nat­ing, I resolved to write a book about these won­der­ful birds. That's why the book I was com­pos­ing began with a Mr. Ocax, a nasty owl.
(At some point I gave that owl book to a fel­low writer and lost track of both her and the book. Alas, I can't tell you—or myself—its title.)
When I start­ed to write, I quick­ly shift­ed my inter­est to the mouse whom that Owl was going to eat. Her name was "Pip."
Back in my (then) home­town of Prov­i­dence, Rhode Island, I read a final draft of the book to a fourth-grade class in the Moses Brown School. A stu­dent showed me a book about a mouse named Pip. I changed the name of my mouse to Poppy.
On Sep­tem­ber 1, 1995, Pop­py—writ­ten by me, pub­lished by Orchard Books, won­der­ful­ly illus­trat­ed by Bri­an Floca—was pub­lished. It van­ished, becom­ing tan­gled up in a pub­lish­ing cri­sis. What saved it was win­ning the Horn Book Award for that year.
In no log­i­cal order, the whole sev­en-book series was com­plet­ed with the pub­li­ca­tion of Rag­weed and Pop­py in 2020. (Bri­an did the art for all the books) From a sto­ry point of view, it was the sec­ond tale (or tail) in the saga. The nar­ra­tive order of the series is Rag­weed, Rag­weed & Pop­py, Pop­py, Pop­py & Rye, Ereth's Birth­day, Poppy's Return and Pop­py & Ereth. It took twen­ty-five years to cre­ate. [Rag­weed, at some point, was in part rewritten]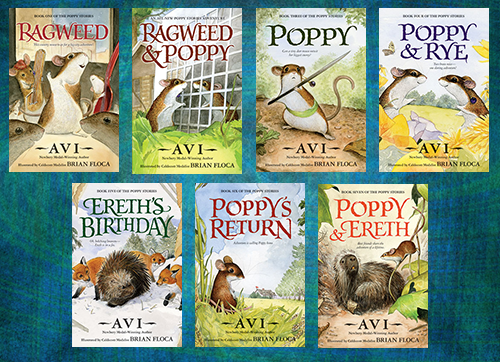 There are no books I enjoyed writ­ing more.
These days, par­ents write to me that they read the books when younger and are now read­ing them to their youngsters.
As of May 11, 2021, the entire series will be avail­able in paper­back. Thank you, HarperCollins.
To cel­e­brate this event, we invite read­ers to sub­mit ques­tions (in the com­ments below) about the series, or any one of the books. We will post answers on our var­i­ous social media platforms.
Or as Ereth might say, we want you to be part of a cheesy cat­er­waul­ing celebration.