I may be wrong, but I think it was Ross McDon­ald (he wrote the high­ly suc­cess­ful Archer series of crime nov­els) who sug­gest­ed that if you intend to write a series, start off by writ­ing three or four of them, so you get, not just the sequenc­ing right, but the main char­ac­ters right.
I have writ­ten a num­ber of series—the Cap­tain Gray books, Crispin Books, the Pop­py books, Mid­night Mag­ic books—and nev­er hav­ing done what he urged, I think he's right.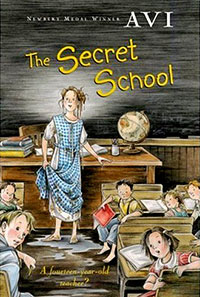 The thought comes into my head as I attempt to write a sequel to The Secret School. The orig­i­nal was writ­ten twen­ty years ago and was com­posed for seri­al­iza­tion in newspapers—published by Break­fast Seri­als. It was sub­se­quent­ly rewrit­ten and pub­lished in book form by Har­court. Har­court was acquired by Lit­tle Brown. Lit­tle Brown request­ed a sequel and I agreed to do it.
That seemed rea­son­able, but—
Since I nev­er intend­ed a sequel, I had no idea what the plot might be.
The daugh­ter of an edi­tor friend of mine who had loved the orig­i­nal, when I asked her what the sequel should be about replied, "It has to be about how Ida (the pro­tag­o­nist) goes to high school."
That made sense, but–
The orig­i­nal sto­ry cov­ered a time peri­od of some six weeks.
High school is a four-year project.
And when I went and re-read that orig­i­nal, oth­er than describ­ing Ida Bidson's height—which is impor­tant in the orig­i­nal book–there is no descrip­tion of what she even looks like.
Beyond all that the orig­i­nal sto­ry was much-loved. How could I pos­si­bly cap­ture its attrac­tion and energy?
But I have agreed to write the book.
It's been a process of get­ting back into char­ac­ter, psy­chol­o­gy, place, style, vocab­u­lary, his­tor­i­cal moment, life in a small-town high school—in the year 1925.
I should have lis­tened to Ross McDon­ald. But I didn't.
Would you be sur­prised if I tell you it's going slowly?
Stay tuned.