A pop­u­lar his­tor­i­cal nov­el about a girl who dar­ing­ly cross­es the coun­try to take part in the Cal­i­for­nia Gold Rush, here are the sto­ry behind the sto­ry and edu­ca­tion­al resources for Gold Rush Girl: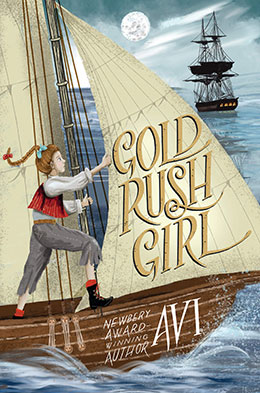 Behind the Story
San Fran­cis­co is a city where I have lived often, vis­it­ed, and have great fond­ness for. I first went there in the fall of 1961, hav­ing fin­ished my grad­u­ate class time at the Uni­ver­si­ty of Wis­con­sin, Madi­son. A fel­low I knew was set­ting up a new the­atre, and he want­ed to do a play I had writ­ten. I took a Grey­hound bus from Madi­son to Chica­go, anoth­er bus from the Windy City to the Gold­en Gate. read more
Resources
Read a sam­ple chap­ter.
Dis­cus­sion ques­tions from Kath­leen Odean.
Arti­cles
"After the Gold Rush," Stu­art Thorn­ton, Nation­al Geo­graph­ic, Jan­u­ary 21, 2011
"Cal­i­for­nia Gold Rush," Amer­i­can Expe­ri­ence, PBS.com, not dated
Videos:
"Cal­i­for­nia Gold Rush for Kids," Bed­time His­to­ry, Novem­ber 18, 2020, retrieved from YouTube.
Chil­dren's librar­i­an Mar­cia Hick­ey book­talks Gold Rush Girl:
Books to Pair with Gold Rush Girl