Prob­a­bly the ques­tion read­ers (young and old) most often ask me is "Where do you get your ideas?"
I've been asked that ques­tion for more than fifty years.
The answer is multifaceted:
To begin with, I grew up in a house of books.
I had great grand­par­ents who were writ­ers. One of my grand­moth­ers was. My par­ents had want­ed to be writers.
There is a fam­i­ly sto­ry that when I was about five years old I rushed into the room where my moth­er was, and excit­ed­ly announced "I can read! I can read!"
Whether that was true or not is quite anoth­er mat­ter. (I doubt it) What it does tell me is that even at that age I knew that read­ing was important.
My moth­er read to me and my sib­lings every bed­time. Also, my moth­er, who was extreme­ly inter­est­ed in children's books, sup­plied us (as I now know) with many of the best pic­ture books of the day. I can recall many of them by titles and recalled images.
Each Fri­day we were tak­en to the near­by pub­lic library and encour­aged to pick the books that inter­est­ed us. I have no mem­o­ry of ever being told "You can't bor­row that book."
Every birth­day, every Christ­mas I received a gift of a book and was encour­aged to have my own library.
I lived in a neigh­bor­hood that had book­stores, includ­ing a used book­store, where, even as a kid, I was wel­come to browse in the dusty, dim recess of the store where I could (and did) buy books for twen­ty-five cents. I acquired and read the ani­mal sto­ries of Thorn­ton W. Burgess and the Fred­dy the Pig series, the Oz books, so-called boys' books, (Tom Swift, Hardy Boys) The Wind in the Wil­lows, and Trea­sure Island. (Curi­ous­ly, I did not read Win­nie the Pooh.)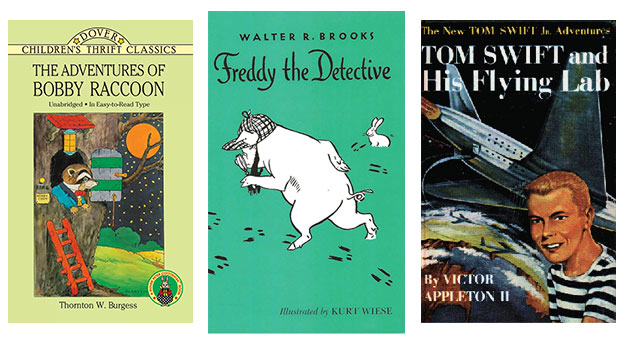 Sto­ry­telling was impor­tant in my fam­i­ly. Sto­ries were encour­aged. At fam­i­ly gath­er­ings, my grand­fa­ther, Char­lie, was always called upon to tell a sto­ry. I real­ize now that he was expect­ed to do so and must have pre­pared. Because no soon­er was he asked, he pro­vid­ed one. And every­one in the room gave him their undi­vid­ed attention.
I grew up in the 1940s. This is to say I did not watch tele­vi­sion but lis­tened to the radio, an avid dai­ly addic­tion. If you lis­ten to record­ings of those pro­grams you will dis­cov­er that they were nar­rat­ed sto­ries, with dialogue.
I went to a tiny pri­vate high school which put great empha­sis on read­ing and writ­ing. A diary I kept dur­ing my senior year has long lists of books (not school require­ments) which reveals that I was read­ing broad­ly, but well … My favorite line in the book is, "Read Pla­to. Not bad."
It's hard­ly a coin­ci­dence that my twin sis­ter is also a writer.
What is my point in all this account­ing? Nar­ra­tive was a fun­da­men­tal part of my life from an exceed­ing­ly ear­ly age. The writ­ten word is the way I learned to think.
All of this is to say that when I engage with the world, I expe­ri­ence it as crowd­ed with narratives.
I don't get ideas. I pick the ones I want to write about.
What I have learned is that when peo­ple ask that ques­tion, Where do you get ideas? It tells me they don't have many sto­ry ideas of their own.
Want to get some?
Read. Read. Read.