We authors love to hear from read­ers of our books. This love­ly note from a teacher—I don't know her or where she teaches—sent this: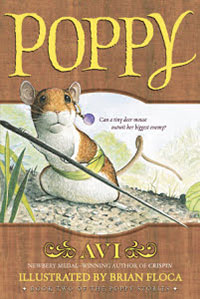 "Pop­py is my favorite read aloud book of all time. I start­ed teach­ing 17 years ago and have read it aloud to every class since then. It has my favorite writ­ten line ever (Hit the puke switch and duck.). All of my stu­dents know it well. I still burst out laugh­ing every time I read it. I have the whole series and my stu­dents eager­ly gob­ble up the rest after I read Pop­py.
One class so loved it that they con­vinced me to read all the oth­ers aloud. That year, the last book in the series (or so I thought) came out the day before school got out. I had a copy of the book on hold at the book store, drove down to get it, and read it all on the last day of school. My stu­dents vot­ed to hear your book over going to field day!!!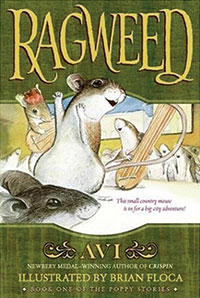 I can't wait to read the new book. [Rag­weed and Pop­py] I was intro­duced to the series by the first grade teacher at my first school. I was try­ing to decide what book I would read with my stu­dents. She sug­gest­ed that I get Pop­py because she had read Rag­weed with her stu­dents and they had real­ly enjoyed it. So, I bought Pop­py books for the class. I was young. It was my first job. I didn't think about read­ing the book first. So we sit down to read the book, the kids tell me all about Rag­weed (for at least 15 min­utes they reliv­ed his adven­tures in the city). I explain that this is the next book in the series, we read the blurb, and I tell them that I bet Rag­weed and Pop­py are the two lit­tle mice that go danc­ing in the moon­light and that this book will be all about the new adven­tures Pop­py and Rag­weed have togeth­er. Alas, I now know that is not true and I have nev­er again read a book with stu­dents with­out pre-read­ing it! I began to read that after­noon, while my stu­dents eager­ly fol­lowed along. My eyes were scan­ning faster than the words were com­ing out of my mouth. It was not long before my eyes saw the hor­ror and even soon­er that the words came spew­ing from my mouth. Tears, real­ly sobs and wails, could be heard from our class­room as the chil­dren mourned the loss of their favorite char­ac­ter. It was in that moment that the bell rang and I had to get the kids out to their par­ents and onto the bus. So, in short. This book that will be pub­lished soon is the book that I thought I was read­ing all those years ago."