One of the advan­tages of work­ing on more than one project is when you get tired ("I just can't look on this again") of book 1, you can go to book 2, just for a change of pace and text.
This is what I recent­ly did: put aside the main project and turned to some­thing not quite as impor­tant. I was, I thought, kid­ding myself. That sec­ond project was done. I was just fak­ing a day's work.
But when I turned to that oth­er book—after a two-month interval—I real­ized some­thing: There was quite a lot to be done. What had happened?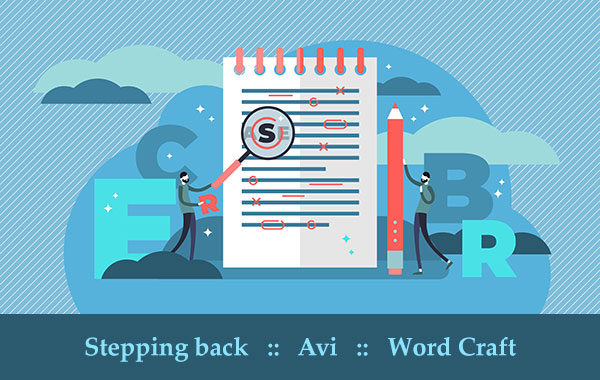 It was some­thing I have writ­ten about before. One of the best things you can do when writ­ing is—nothing.
It is quite dif­fer­ent from "Absence makes the heart grow fonder" (The Roman poet Sex­tus is cred­it­ed with the ear­li­est ver­sion of the phrase.) It's more like, "Absence makes the eyes grow sharper."
Some­times your full engage­ment with what you write doesn't allow you to see (or expe­ri­ence) what you've done.
Blunt­ly, that's why we need editors.
Fail­ing that, step­ping away allows you (oh, the irony) to step closer.
When I come back to that text after some time, I picked up lots of things. Punc­tu­a­tion for starters. Word rep­e­ti­tions. Plot rep­e­ti­tions. Jumps. Gaps. Poor qual­i­ty of work.
In short, everything.
[It's one of the rea­sons I don't like to read my pub­lished work. I always find some­thing I could have done better.]
This is to say a gap in time allows you to become less the writer of your work and more a read­er of your work.
As I've said a mil­lion times: Writ­ers don't write writ­ing. They write reading.
Is it hard to step away from your work for a peri­od of time? Yes. What are your options? Take a real vaca­tion. Find some­thing that needs fix­ing in your home. Start anoth­er project. Or do some­thing that you would real­ly like to do: Read your favorite writer. They've already done the work. And they'll give you a refresh­er les­son in good writ­ing. A good writer always can use good reading.