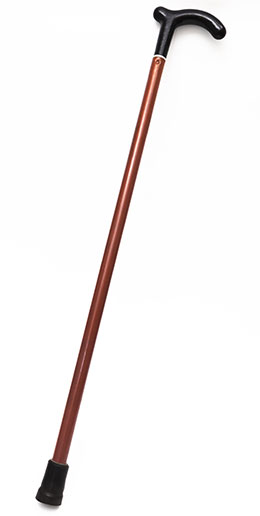 As some of you may have read here, I sus­tained a hip injury a cou­ple of months ago when I slipped on some ice. After my ini­tial fall, there was no pain, no surgery, no med­ica­tions, I'm doing just fine, thank you. But I had a need for phys­i­cal therapy.
With that PT came advice. "Get a cane so you don't walk lopsided."
Like me, I'm sure you have seen a cane in the hands of many, many oth­er peo­ple. So, "Get a cane," was a sim­ple thing to do.
But…………to my great sur­prise It wasn't sim­ple to use it.
My injury was on the left side. In which hand do I hold the cane?
What height should that cane be?
How do you walk with a cane? That is, how do you syn­chro­nize your step (includ­ing your lop­sided step) with the swing of that cane?
This is to say, how do you learn to walk again?
And if you have slight left/ right confusion—as I do—even that becomes a lit­tle complicated.
It's a reminder that what appears to be sim­ple from a distance—metaphorically or not—is often oth­er­wise. Sim­ple is hard to see. And, in my own fash­ion, it relates to writ­ing. Because, if you are telling a sto­ry and you wish to com­mu­ni­cate how some­one does some­thing, feels some­thing, solves some­thing (and so forth) you need to see it (in your mind) describe it, find the words for it. And then you need to find a way to use the words to com­mu­ni­cate a lot more than just the act itself.
It is a cliché to sug­gest the "Dev­il is in the details." But those sim­ple details are pre­cise­ly that which ele­vates writ­ing: an abil­i­ty to pro­vide the read­er with a sense of the real. And—to make it more com­pli­cat­ed, while there is the need­ful skill of know­ing what to put in, there is an equal skill in know­ing what to leave out. It reminds me of that oth­er (use­ful) writ­ing cliché: you need to make the usu­al unusu­al, even as you make the unusu­al, usual.
In short, while I have lived a fair­ly long life, and, as I say, I have seen many a cane in many a hand, I knew noth­ing about it.
I'm still learn­ing sim­ple things. Or to be Bib­li­cal about it, I'm using a cane to become able.