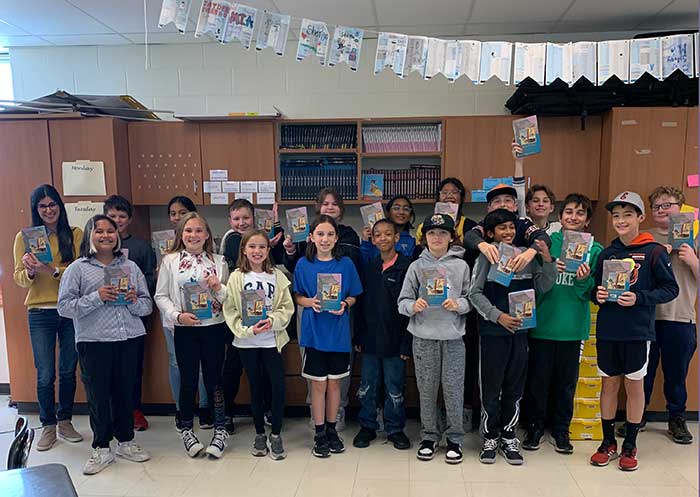 Dear Ms. C's students'
I recent­ly received your note: "My 6th graders just fin­ished The True Con­fes­sions of Char­lotte Doyle. Is there a sequel!? If not, we want one!"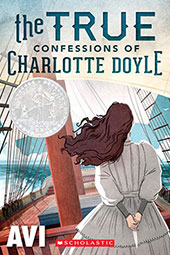 I have been asked that ques­tion many, many times.
I'm not here to announce that I am about to write one but to tell you why I nev­er will.
Let it be said, it is always (in my mind) a fine com­pli­ment when a read­er asks for a sequel. It sug­gests that the read­er cares for the char­ac­ters I cre­at­ed, and wants to know more about them, per­haps even to grow with them.
As a writer, I can relate to that. When I wrote Pop­py I want­ed to spend more time with the char­ac­ters, not so much to find out what they did, but because I enjoyed their com­pa­ny. So, over a peri­od of twen­ty-five years (!) I wrote sev­en books. I enjoyed writ­ing every one of them.
I was helped because Bri­an Flo­ca—the illustrator—was there for the full ride, and his won­der­ful images kept the char­ac­ters very much alive in my mind.
By way of con­trast, when I first thought of Crispin: The Cross of Lead, (my New­bery book) I con­tem­plat­ed a saga of four books, right down to the last word. I wrote three of the books, but the edi­tor declined to com­mit to a fourth. It was begun but nev­er fin­ished. That one I still hope to write. (Go Fund Me, anyone?)
As for Char­lotte, I nev­er con­sid­ered extend­ing the sto­ry. That sto­ry, in my mind, is about how a young woman, Char­lotte, changes from a pas­sive, auto­mat­i­cal­ly obe­di­ent young woman, into a self-think­ing, active seek­er of her own truth, and con­nec­tions, some­one who wants to be in charge of her own life.
Indeed, con­sid­er the last line of the book: "A sailor choos­es the wind that takes the ship from a safe port … but winds have a mind of their own."
I like to think that implies one can have, should have, the free­dom to act, but there is no assur­ance as to what will hap­pen. To go any­where, you have to risk the going.
Sequel? My think­ing was (and still is) this: If you aligned your­self with Char­lotte, I the author should not tell you, the read­er, what hap­pens. You, the read­er, must tell your­self that tale. That is your act of inde­pen­dence. It's what I believe the book is all about.
So, no sequel. You have to think it.
But wait!
In the years since the book was pub­lished, there has been a num­ber of efforts to turn the book into a movie. It has nev­er hap­pened. Close, but still no tick­ets. That said as I write you (10/11/22) yet again there are ongo­ing nego­ti­a­tions to do so. It's been a long, tor­tur­ous process, not, at this moment, brought to real­i­ty, and giv­en the his­to­ry, I have real doubts that it ever will.
How­ev­er, in the com­plex world of movie mak­ing (and the even more com­plex world of movie con­tract mak­ing) there crept into the pos­si­ble con­tract a clause that would allow the mak­ers of the film to cre­ate a sequel if (I sup­pose) the box-office busi­ness war­rant­ed such a step.
So, you might—a very, very, very slight might—have a sequel. You'll prob­a­bly be fin­ished with col­lege by that time.
And it would not be me who cre­ates it.
So, here is my advice: Stick with the sequel you write in your own head.
Your friend,
Avi