I once asked my very good friend, the late, great, Natal­ie Bab­bitt, why she didn't write more. Natal­ie was always mod­est and self-dep­re­cat­ing to the extreme, but her answer at that time was, "Peo­ple always tell me that Tuck Ever­last­ing, is one of the best children's books ever. How could I do bet­ter than that?"
When a writer has writ­ten a good num­ber of books, it's both under­stand­able and even rea­son­able for read­ers to say, "My favorite book of yours is ______________." And while it's more than nice to know some­one enjoyed one of your books, there is a down­side to that compliment.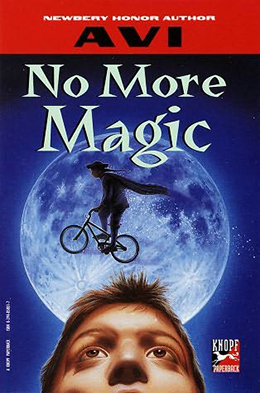 Instance: I had a friend who took it upon her­self to read all my books. When­ev­er she read the lat­est and report­ed back to me, she'd always say. "I real­ly liked ______________ but my favorite book of yours is still, No More Mag­ic." That is my first nov­el writ­ten in 1975. In oth­er words, in all the years since, accord­ing to that loy­al read­er, I had not writ­ten any­thing better.
Not encour­ag­ing.
(Of late she has stopped read­ing my books.)
That said, at some point, when my writ­ing career is over, per­haps some­one will eval­u­ate all my work (in an obit­u­ary?) and may well say, "Avi's best book was ______________." And maybe they will be right, though such a judg­ment is high­ly sub­jec­tive. For I can also safe­ly say I'm not aware of any­one who has read all of my books. So that when some­one tells me that such and such is my best book, in my head I think (but nev­er say) but did you read ______________?
When I talk to my young read­ers and some­times adults, one of the most com­mon ques­tions I am asked is, "Of all the books you have writ­ten, what's your favorite?"
My answer is, "The book I am work­ing on."
That is true.
I always want—and work—so that my cur­rent project will be the best. Will it be? It's not for me to say. Read­ers (see above) will make that judgment.
And yet…and yet…A part of me does know. I have a new book that will be pub­lished next sum­mer. Its title is The Secret Sis­ters. It is a par­tic­u­lar­ly good book, one of my bet­ter ones. The book I fin­ished just before that one is titled Fear. I felt it was so poor I did not offer it to any publisher.
Think­ing that a work-in-progress can be good makes me work hard­er. It is exhaust­ing if I sense a book is not that good.
I have two favorite remarks about the mak­ing of art.
"Art is not what you see but what you make oth­ers see."
"Art is nev­er fin­ished, only abandoned."
Nice work—if you can get it.