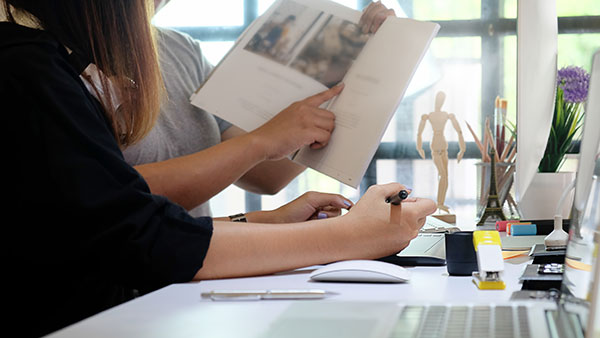 In my years of writ­ing this blog, I haven't com­ment­ed much about what it takes to work in the pub­lish­ing indus­try, the world that cre­ates the phys­i­cal book.
(While I'm not ref­er­enc­ing one's income as a writer, it's worth a men­tion here that the US Bureau of Labor Sta­tis­tics states that the aver­age income of writ­ers is $69,510 per year. Which means, sta­tis­ti­cal­ly, that half of all writ­ers make less than that.)
But con­sid­er all those who work as edi­tors, proof­read­ers, mar­ket peo­ple, and so forth, the many peo­ple who pro­duce the books. Indeed, a pub­lish­er once told me that it takes some forty peo­ple to bring a book from the man­u­script to that fin­ished book in your hands. Keep in mind, too, that the world of US pub­lish­ing is cen­tered in New York City, and the cost of liv­ing there is con­sid­er­ably high­er than else­where in the country.
Many years ago I recall talk­ing to the pub­lish­er of a major (NY) book house. Hav­ing learned (then) what staff peo­ple were being paid, I sug­gest­ed to this woman—a wealthy woman by the way—that salaries should be high­er. Her answer—which I nev­er forgot–was that "If peo­ple want to work in pub­lish­ing they should con­sid­er it a priv­i­lege and be will­ing to make a sac­ri­fice to do so."
Then think about this, which is from the 2/9/23 NY Times:
"The Harper­Collins union — which rep­re­sents about 250 employ­ees in edi­to­r­i­al, pub­lic­i­ty, sales, mar­ket­ing, legal, and design — has been nego­ti­at­ing for bet­ter fam­i­ly leave ben­e­fits, a stronger com­mit­ment from the com­pa­ny to diver­si­fy­ing its work­force, and high­er pay. It asked that the com­pa­ny raise the min­i­mum start­ing salary to $50,000, from $45,000."
"Most major pub­lish­ing com­pa­nies offer com­pa­ra­ble start­ing salaries, and some have increased wages recent­ly. This month, Macmil­lan said it would increase its entry-lev­el base salary to $47,500, from $42,000, and Hachette Book Group announced that it raised entry-lev­el salaries for employ­ees who live in expen­sive loca­tions to $47,500 a year, from $45,000, accord­ing to the indus­try web­site Pub­lish­ers Marketplace."
The world of children's book pub­lish­ing has long been very much a woman's world, though that is less true today than when I first engaged with it. But I have absolute­ly no doubt that is a fac­tor when one con­sid­ers low wages and work­ing conditions.
As it is in all aspects of our society.
Just recent­ly, Publisher's Week­ly report­ed that Harper­Collins plans to cut 5% of its employ­ees in North Amer­i­ca by the end of the cur­rent fis­cal year, which ends June 30. Some jobs were elim­i­nat­ed today.
On Feb­ru­ary 16, a new con­tract was rat­i­fied by the union.
From Publisher's Week­ly: "Accord­ing to Local 2110 of the UAW, the union that rep­re­sents union­ized Harper­Collins employ­ees, the con­tract "achieves improved com­pen­sa­tion and ben­e­fits, includ­ing high­er min­i­mums, guar­an­teed annu­al increas­es for every­one rat­ed above 'unsat­is­fac­to­ry,' two hours of over­time with­out approval for low­est paid employ­ees, improved union rights with release time dur­ing work hours, paid time to par­tic­i­pate in the joint labor-man­age­ment com­mit­tee and company's diver­si­ty ini­tia­tives, improved paid time off, and abil­i­ty to con­tin­ue to work remote­ly until July 1.
In terms of min­i­mum salaries, the low­est salary, $47,500, will increase to $48,500 in Jan­u­ary 2024 and go up to $50,000 in Jan­u­ary 2025."
There are lots of roman­tic notions about the world of writ­ing and pub­lish­ing. Some­times I share them. But it's worth remem­ber­ing: it is a business.